What is a Stage LED Display Screen?
An LED stage display screen is a panel display that utilizes diode emitting lights for display images. The diodes in the mechanism are used to display high-resolution images. As of today, LED screens have become so popular that you hardly walk or drive through a city center anywhere in the world without finding them. LED display screens are used in Billboard and store signs. They are also used in the entertainment and hospitality industry, such as cinemas, outdoor musical tours, and events.
An LED display screen has several LED panels embedded in its framework that displays whatever image it is fed with, and this offers viewers more advantages than the earlier technology. One main reason why they have become widely accepted by all is because of its flexibility as well as its capacity to project different colors all at once where necessary. With the aid of a semiconductor, an LED display can project colors, including infrared and ultraviolet light.
What are the types of LED Display screens?
LED displays contain different types, and they all provide picture-perfect quality to the viewer. Some of the most common types sold on the market today include
Digit display
Alpha display
Matrix size display
Choosing a suitable display option should be done in line with your needs as these various options provide varying degrees of quality.
Common Locations where LED Display screens are used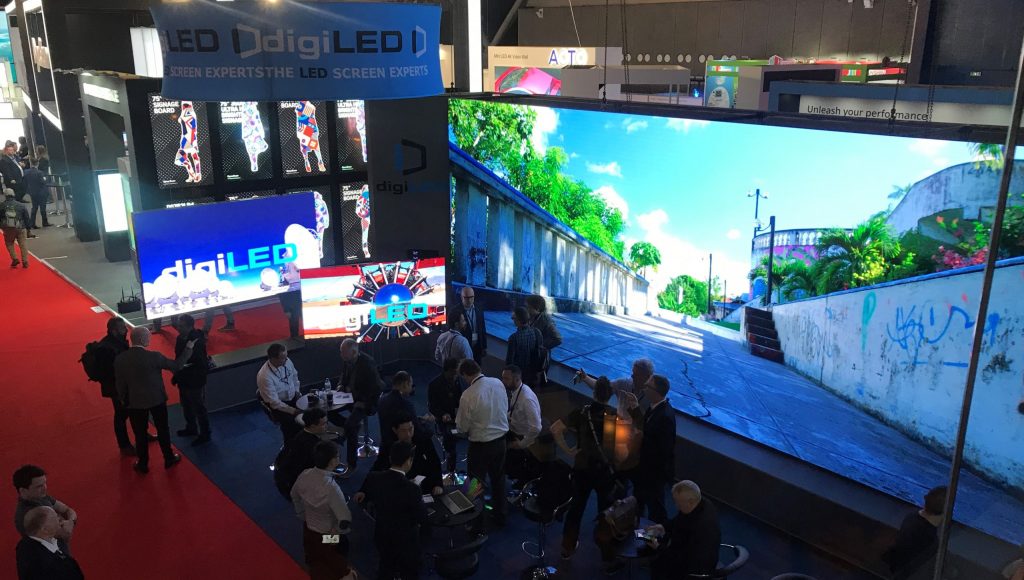 The main function LED screens serve is to provide a large audience with access to images at a location. They are perfectly suited for mass media broadcast, whether in real-time or recorded content. Here are some common locations where LED displays are commonly utilized.
The average wedding event may not need an LED screen if only a few people are in attendance. But in the case where a large number of attendees will be present numbering several hundred or thousands, wedding planners may opt for a large display screen. Broadcasting proceedings to wedding guests who are far away from the altar or stage is one of the few effective ways to maintain interest as long as the wedding lasts.
Before the advent of large screens, art performers were only able to perform before a limited audience. Then came the introduction of large resolution screens are everything changed for the better. Today, we have musicians, dramatists, speakers, and public educators who engage a large crowd without a reduction in the quality of their message or art. Broadcasting via an LED screen even makes the experience a lot more immersive and engaging due to the quality of display pictures.
Churches are known to host large crowds at the same time, especially at Sunday services. Large church congregations position cameras and lighting at the altar and broadcast images in real-time to congregants.
Most cinemas use LED display screens to broadcast content to movie lovers. In fact, cinemas were one of the earliest adopters of this technology.
Digital marketers and advertisers continue to harness the power of LED screens to positive effects. Billboards erected on skyscrapers and high rise buildings project images to road commuters in their thousands. The more people get to see a brand, the more such an image or message is ingrained in their subconscious.
How to choose a Stage LED Display screen?
If you are an event manager who has an upcoming event to plan for. Or you organize social events regularly, I am sure that you will appreciate the need to use only the best broadcast gadget that offers high quality and nothing less. In order not to make a mistake of choosing a poor quality screen that may hamper the success of your event, find below some tips that will help you make the right decision.
#1. Consider the audience population
Before you pick an LED display, you first need to decide the number of people you want to connect with. If you are going to broadcast content in real-time like music tours with live performers on stage, you need to be certain as to the number of fans that will turn out. The larger the audience population, the larger the screen you may likely need, although this is not in all cases.
#2 Size of Location
Is your audience going to be huddled up close together in a smaller and restricted location, or are they going to be spread apart in a large expanse of land? If they are going to be standing or sitting together, you may go for an LED Display that caters to the need of an audience in a confined space. However, if they are going to be spread out across a large area, you will require a screen that participants can clearly view even if they are far away from the stage or the location of the action. Having considered the population of your audience and the location size, you can then move on to other considerations.
#3 Pick a Screen that offers premium brightness
Picking a screen that offers the best brightness in terms of quality is sacrosanct. If you want to optimize the visual experience of your audience, you need to go for the best screen there are, and this is what Dreamway Technology offers viewers. If your screen is too bright, it will lead to viewer discomfort, and as you already know, an uncomfortable audience is a disconnected audience. On the other hand, if the screen is too dim, the content you broadcast will not be very visible.
#4 Viewing Distance of your audience
LED displays are great for the long-distance view, that is why they are very popular. If your sign or image will be displayed to motorists or you want your image or content to have a wider reach, you will need to make the characters very visible. The bigger the letters or images, the better the impact.
#5 The type of content
The type of content you intend to broadcast should also be considered before you decide on the LED specification to go for. For advertisers who broadcast texts, the font size and character colors have to be the right fit. Eye-catching backdrops and backgrounds also improve visual quality. While video contents require color quality.
#6 Pixel and color resolution
Pixel quality is just as important as anything else. To decide on the right pixel pitch, make sure you consider the viewing distance first. Indoor display screens for cinemas should have at least a P4 LED pitch as a standard resolution though small pixel pitch types below P2 would be better choices. For outdoor screens, P6 to P10 pitches work well because they project more color for distance viewing. If you are not so sure of a suitable pitch to use, you can engage the services of professionals to provide guidance.
#7 The Communication Mechanism
The control card the LED screen uses should also be considered as well. Control cards that work with computer systems make it very easy for you to change images and contents as often as you want in a matter of minutes. Computerized systems also make it possible to broadcast content in quick succession.
#8 Electricity consumption
This list will be incomplete without considering the power consumption cost of the equipment. The last thing you want is to purchase a screen that consumes so much electricity while in operation. For HD screens, energy cost is always a concern for users who like to keep their display active for several hours or days. Based on this, Dreamway launched several energy-saving types to help consumers avoid this problem.
#9 Understand the relationship between Higher and Lower Pixel Pitch
Here is a table that best explains the relationship between higher pixel pitch and lower pixel pitch
| | |
| --- | --- |
| High pixel pitch | Low pixel pitch |
| Lower pixel density | Higher pixel density |
| Lower resolution | Higher resolution |
Is a Curved LED stage screen an ideal choice?
When you think of a display screen or a domestic television set, the shape that comes to mind is a flat, squared screen. But in recent times, many are beginning to open up to the idea of a curved screen. Flat screens were good enough and still are; however, some will argue that curved screens are better or worse. Are curved screens good for content viewing, or do they reduce the quality of images?
Currently, there are no pieces of evidence to suggest that Curved screens offer less value than flat screens. Some will even argue that curved screens offer a much more immersive experience than flat screens. If you want to add spice to your event so as to increase audience engagement, you may want to try adopting a curved stage screen for a change due to the following advantages.
Advantages of a Curved LED stage screen
A better viewing experience
Humans have convex-shaped eyeball curvatures which blend well with curved LED screens. The shape of the human eye ensures that the images projected from the screen are properly conveyed. The increased sensory experience a curved screen offers is what makes it an ideal option regardless of the screen's location.
Curved screens offer event managers better flexibility than flat screens. Flat screens are conventional in nature, so if you plan to do something out of the ordinary, you may find flat screens to be quite inflexible. Curved screens, on the other hand, can be adapted to meet event requirements. Advertisers also adopt curved screens in greater numbers these days because it allows them to make better use of screen space, especially if they are going to project different images at the same time. In advertising, communication is key and curved screens can help you communicate your message appropriately.
The aesthetic brilliance of a curved screen is better seen than imagined. It is attractive and pleasing to the eye. As an event organizer, you should know that when participants attend your event, the first thing they will notice at the venue is the projector screen. Having a curved screen standing tall in front of the crowd increases the face value of your event due to its elegant design. Dreamway Technology designs curved screens that can cater to the needs of small and large crowds.
LED-Wall Stage screen
You can also opt for a wall stage screen. As the name implies, this type of screen is fitted on a wall to ensure balance and to protect the screen from falling off. The wall screens sold by Dreamway come along with accessories that are used to comfortably fit the screen against a wall. Oftentimes, the wall is positioned at an elevated point to enable people at the back to see the screen clearly.
LED Stage Curtains
Stage curtains are also another accessory you can order from Dreamway Technologies. Stage curtains are mostly used by dramatists for stage plays, but you can use it for any other event if you wish. Stage curtains cover the stage or LED screen to prevent viewing until when the time is right. A stage curtain can also be used to protect the screen from weather or environmental elements.
LED Stage backdrop
LED backdrops are very common at event centers and public gatherings all over the world. You find them in use at conferences, concerts, symposiums, festivals, music tours, fashion shows, art exhibitions, and just about any other public gatherings that you can think of. The wonderful thing about LED stage backdrops is that they transform events in so many ways. They are very colorful, and they allow viewing from any location. Even occupants of back row seats can enjoy the viewing experience of the show as much as those who sit in the front row.
As of today, technological advancements have led to backdrop innovations of practically any size, shape or color. To captivate your audience, even more, endeavor to use a very good backdrop for your next event. At Dreamway, we have high-quality backdrops for events of all kinds. If you prefer a customized LED stage backdrop, we can also design one that is tailor-made for you full of all the visual additions of your choosing.
Here are some of the benefits of using LED stage backdrops for your event.
With backdrops, you can customize your videos to make them more valuable. The more attractive the display, the more engaging they will be.
Kill two birds with one stone by not only showing your content but also by advertising your brand at the same time. Backdrops can serve as a marketing tool to convey promotional messages, slogans, images, or catchphrases that your audience will remember long after the event ends.
Different shapes and sizes
You are not limited by choice when it comes to choosing a suitable backdrop for your event. We can customize one that suits your need.
The backdrops we offer to our clients are lightweight. So you can transport them across long distances with ease.
Single or group backdrops
A single backdrop may be enough for your event, or maybe more will be required. You don't have to worry about the number of backdrops needed because at Dreamway, we've got you covered. We can design single or group series backdrops for your event at an affordable price.
Light up your stage with a backdrop that adds more value to your event. You can go for a vertical or horizontal orientation, depending on the best option.
Do you know that you don't necessarily have to buy a stage screen for your event? Unless you are a regular event organizer who has shows on a regular basis, you don't need to buy an LED stage screen. Even regular event managers are better off spending their resources on other needs rather than spending so much screen procurement. This is why renting a screen might be a better option instead of purchasing one.
For your indoor or outdoor event, you can contact Dreamway Technology for screen rentals. We rent out small, semi-large, and large stage screens to clients at a reasonable price. We also provide all the required accessories to set up the screen. In addition to that, Dreamway has experts on standby who are trained to set up the LED screens for our clients. We also provide technical support and assistance should operational issues arise.
Benefits and features of Dreamway's LED stage screen
Our LED screens are configured to provide clients who operate in different industries. As far as mass stage media projection is concerned, we have the capacity to cater to the needs of small and large crowds. Our screens are
Easy to assemble in less time
Lightweight and easy to transport
Lower assembling cost
High quality
How to install an LED stage screen?
Installing an LED screen is quite a technical endeavor. Only trained hands are able to pull it off in less time without damaging the equipment. If you wish to install an LED screen anytime soon, contact us at Dreamway Technology to help you out.  We have experienced in house technicians who are willing to be of service to you.
The best-LED Stage Screen Manufacturer
Dreamway Technology Co. Ltd. is a Shenzhen based manufacturer with years of experience producing high quality LED screens for mass audiences? Since the year 2013, we have produced stage screens that have captivated audiences in public gatherings all over the world.
We pride ourselves as being a company that invests a lot of resources in R&D, and we have consistently churned out screening equipment of the best quality. Our factory in Shenzhen is a production hub that keeps improving incapacity, and we hope to be one of the best manufactures of stage equipment in the not too distant future.
Certification
Dreamway has obtained the following certification to bolster our production capacity.
Our service
Indoor and Outdoor LED stage screen manufacturer and supplier
Taxi LED Display Screen supplier
LED stage screen rental
We export our equipment to countries around the globe, and some of our top destinations are
Argentina
Brazil
Mexico
Israel
Italy
New Zealand
Nigeria
Slovenia
Turkey
UK
USA
For all questions and enquires about any of our aforementioned products, please contact us via email, phone calls or visit our offices at:
Shenzhen Dreamway Technology Co., Limited
Building 9, Industrial Park 4, Hongxing Village, Guangming, Shenzhen, China
+86-755-29436859
jean@dreamwaytech.com
+86-13827475686
www.dreamwaytech.com