LED display screen has been widely used to advertise and also return many benefits to clients. It is very important to get an advertising LED display screen with stable quality, especially that the brightness needs to be high enough for an outdoor LED display screen. Otherwise, the benefits of the ads would be not high, as passers-by or potential clients couldn't see the ads clearly under strong direct sunlight.
P6 Outdoor Advertising LED Display Screen Project:
Here I would like to introduce one project installed in Zimbabwe in 2018. As we could see, there is a lot of sunlight there during the daytime. As a result, it is essential to choose an outdoor LED display screen at least 6,500 nits to meet the installation environment there.
This LED display screen size is W 3.84 x H 1.92 meter, with the resolution W 640 x H 320 pixels. The LED lamp adopted is Nationstar, SMD2727.
The LED display module is W 32 x H 32 dots, W 192 x H 192 mm size. The driving method of this LED display screen is 1/4 scan, and PCBs are with 4 layers, good for heat dissipation.
The brightness in the white balance of this outdoor LED display screen is about 7,000 nits by testing with a luminance colorimeter.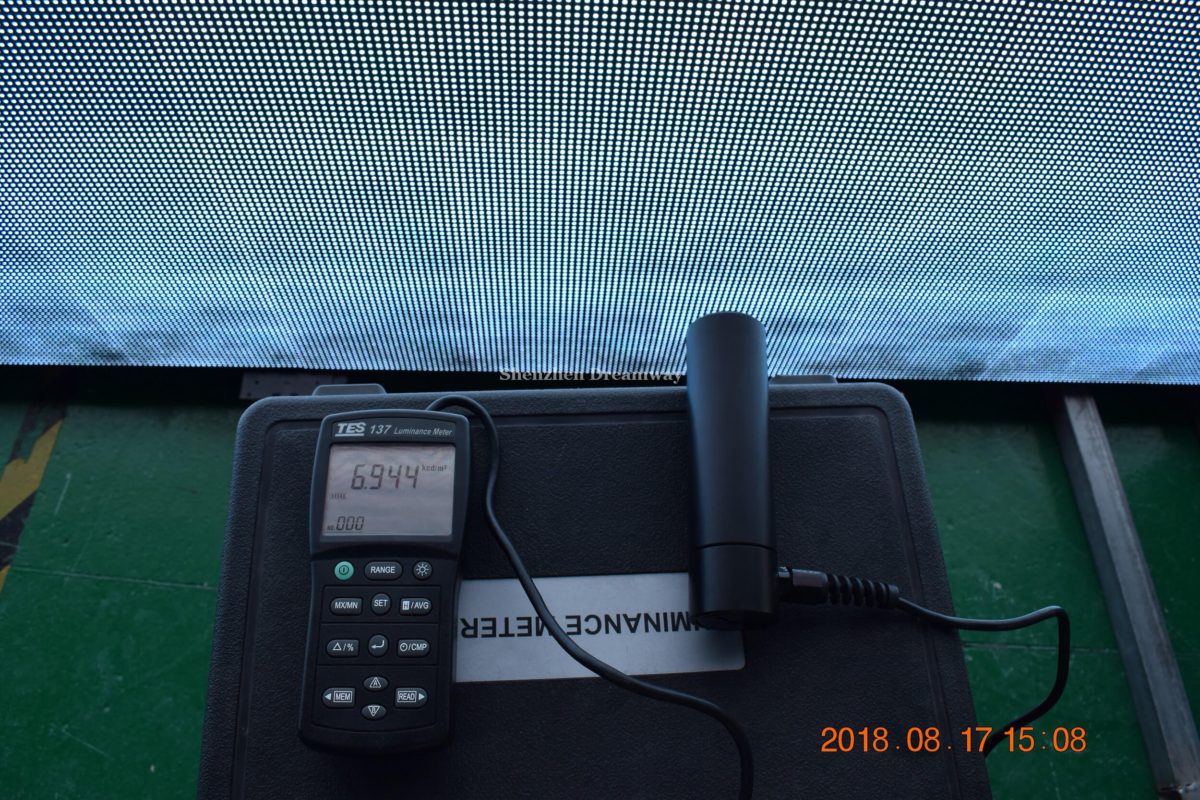 For the cabinet, it is with the size W 960 x H 960 mm, with W 160 x H 160 pixels. It is iron waterproof material, with the back doors and covers to make it better in waterproof.
Each cabinet is equipped with 4 pcs G-energy power supplies, with each 5V60A, and 1 pc Kystar receiving card. 4 pcs cooling fans are also used for better thermal dissipation. Besides, Linko brand power and signal connectors are used for easier connection and disconnection of cables. Each cabinet weighs about 39 kg, with a thickness of 18 cm.
The Kystar brightness sensor is equipped for this LED display screen to adjust the brightness automatically according to the outside environment, which could make sure the life span of LED lamps would be kept long enough. Besides, an IPC (Industrial Personal Computer) is also equipped to control this LED display screen remotely.
For this LED display screen, it was aging for about 25 days before the package. For the package, 3 pcs cabinets were packed in 1 pc plywood case.
Outdoor LED Display Screen Conclusion:
According to the above example, you may know that the brightness does matter for an outdoor LED display screen when there is strong direct sunlight during the daytime. For the brightness, it is decided by the LED chip.
Here are some features of the Nationstar LED lamp adopted in this project: 
☛ Bending pins inside, waterproof and stable.
☛ White frame to improve the brightness.
☛ Matte surface craftsmanship to prevent the reflection of light.
☛ High frame and low pins design making the glue filling much more conveniently.
Except that the raw materials should be with the middle-high grade, it is an inevitable process for aging and testing before the delivery. This is a good method to avoid problems like "dead-LEDs" or mosaics. This is why we take so many days for aging. During this process, it is also important to use pictures with all white, red, green, blue color to test.
Interested to get the LED display screen price and know LED display manufacturer selection? Contact us NOW.