Indoor LED Screen Specifications
This indoor LED screen was finished in 2018, New Zealand. It is a P2.5 type, with 160,000 pixels per square meter. The total screen size is W 3.2 x H 2.08 meters. And the resolution is W 1280 x H 832 pixels in total.
Each LED display module is 64×64 dots, 160×160 mm. The PCB used is 4 layers. For this indoor LED wall, it is composed of 2 kinds of LED panel sizes. One size is W 640 x H 640 mm, and the other size is W 640 x H 800 mm. For the former size LED panel, there are 10 pcs, while there are 5 pcs for the latter size LED panel. The drive IC used is ICN2038 for this indoor video wall. The refresh rate is 1,920 Hz. The maximum power consumption of this type of indoor LED display screen is 700W per square meter, and the average power is 235W per square meter. The brightness is 1,000 nits. As this indoor LED screen is installed on the wall, it is designed with the front service solution. All parts including LED modules, power supply, control cards could be maintained from front. The power supply of this indoor advertising screen is Meanwell, with CE/UL/CB standard, fanless. And the control card adopted is the Novastar brand. All of these parts are with stable quality. Besides, a video processor is equipped to get input signals like HDMI, DVI, VGA, etc. For this indoor LED screen, a power box including an OBO lightning arrester is also added to control the whole circuit.
During the testing after assembling of this indoor LED screen, it was aging with ALL WHITE, RED, GREEN, BLUE colors by turns. And also static images and videos were used for testing. For the Dreamway LED screen, all finished products would be aging like this at least 3 days, except 1 day aging after LED modules are finished producing. This is to make sure the minor problems like cold soldering of LED lamp or driver IC could come out during aging and we could repair before delivery. Only after with all different colors aging could such minor problems come out.
Before the package of this indoor LED screen, we disassembled the 4 pcs LED modules at the corner of every LED panel. As this is installed on the wall, and there is no space at the back, this could be more convenient for the client to install. The client only needs to attach LED modules and connect cables.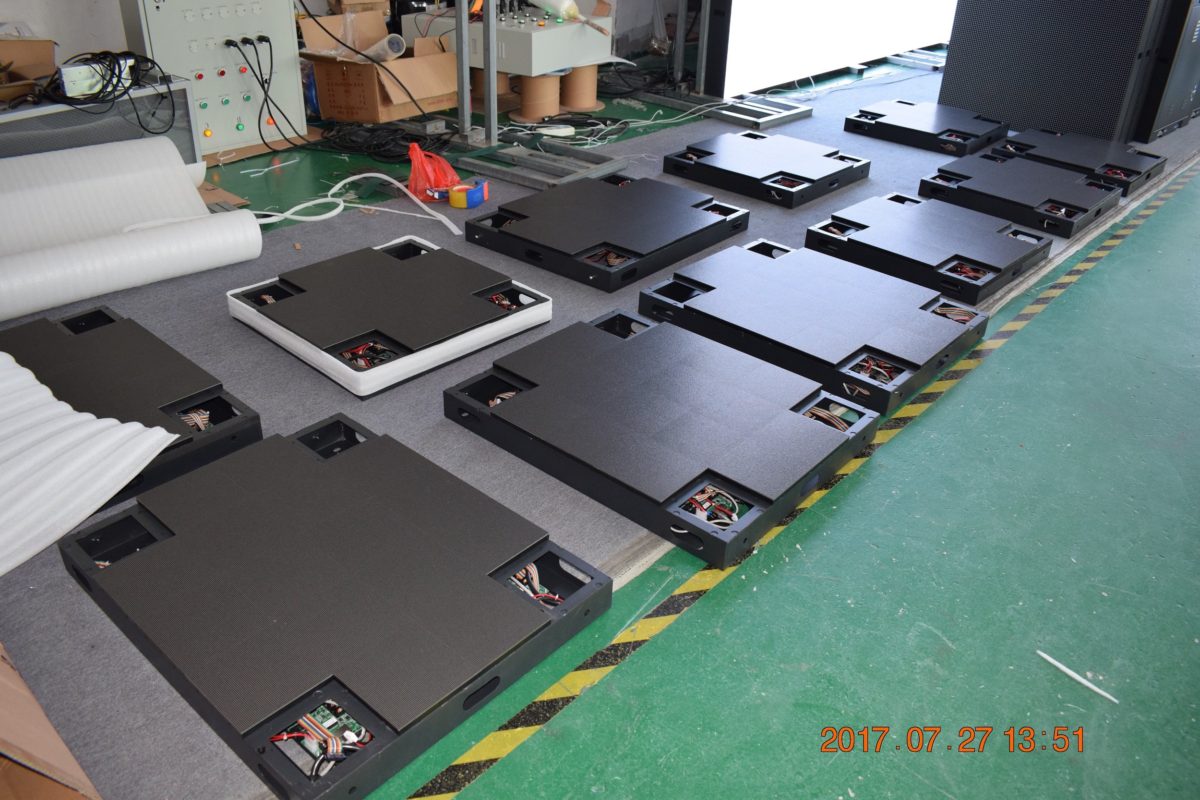 Indoor LED Screen Applications
Nowadays, it is very common to see an indoor LED screen to be used in the shop, meeting room, shopping mall, restaurant, airport, and so on. It could provide people with vivid displaying effects and send in-time messages.
If you have such a need and looking for an indoor LED video wall for your project, welcome to talk more.